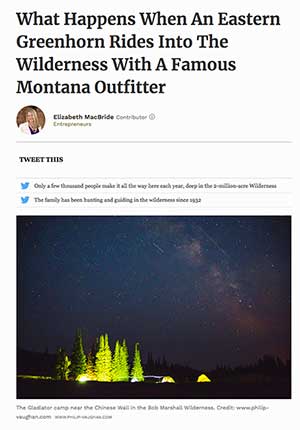 Our 2018 summer outfitting season was wonderful!  We watched our clients fall in love with the Bob Marshall Wilderness, which is always a magical process.
On our last pack trip of the summer, we had the good luck of bringing some really great women in on a 7 day scenic horse pack trip: Elizabeth MacBride and her two daughters, Mitzi Stonehocker, her daughter and two granddaughters.  We were excited to have children so close in age on the trip together with our children (all 10-14 years old).
We  began our adventure at the Holland Lake trailhead, rode over Holland Peak and down to confluence of the beautiful South Fork of the Flathead and Holbrook Creek to our base camp.  We explored White River Canyon, camped in the high alpine valley at Gladiator Camp near the top of the Chinese Wall, hiked down to the famed Needle Falls and swam in the emerald green pool at the base.  They were able to experience the history of the Big Prairie Ranger Station, and view the expanse of Big Salmon Lake, see the Milky Way stretch across the clear night sky; some were even lucky enough to watch falling stars as they sparkled for a moment before they streaked across the expanse of universe.
After their trip, Elizabeth published an article about her time with us in Forbes Magazine titled, "What Happens When An Eastern Greenhorn Rides Into The Wilderness With A Famous Montana Outfitter" and we were able to relive the trip from her perspective.  Her article shows how the wilderness can transform you, even when you least expect it.   She describes the transformation: "I watch as, day by day, with every mile on horseback, and every hike up a cliff or mountainside, the veneers of sophistication slip off my own kids. I hadn't even realized those layers were there. The wilderness seems to confer power people didn't know they had."
Thank you, Elizabeth MacBride! Thank you, fabulous 406 Wilderness clients.  We appreciate you and hope to see you again.
Read the article in full here:  August, 2018 Forbes Article