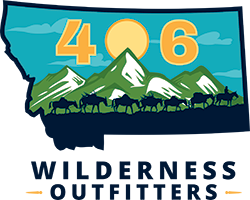 406 Wilderness Outfitters is a family owned business that provides scenic horse pack trips, guided fishing trips, big game hunting trips, guided hiking trips and drop & float services in Montana's beautiful Bob Marshall Wilderness Complex. Guests from all over the world have traveled into the Bob Marshall Wilderness with the Cheff family.
Now in its third generation of outfitters, Mark and Claire Cheff are continuing the tradition that Mark's grandparents started and that his parents continued to grow and perfect. Mark grew up helping his parents and grandparents and has spent much of his life exploring and guiding guests in the Bob Marshall Wilderness.
Some things have changed since our early beginnings, but there's one thing that remains the same: our dedication to providing you an unforgettable wilderness experience in a place we know and love.